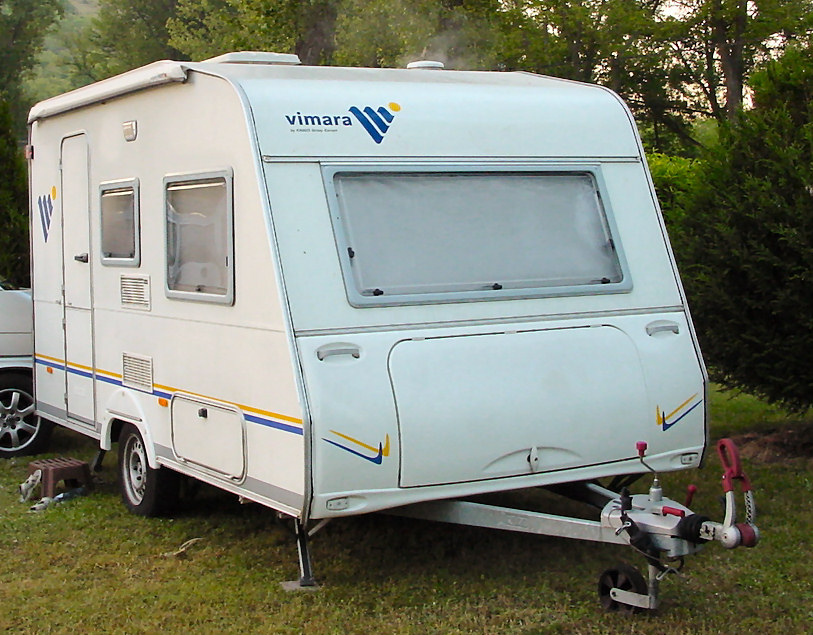 Photo by CC user Edward on wikimedia commons
This is a paid advertisement by Shield Total Insurance 
We all want to get the best possible deal when looking for cheap caravan insurance. As with any financial product however, if the bottom line price of the policy is remarkably cheaper than anything else you can find, there's a good chance that something is missing. Ultimately, your aim is to get the right level of protection at the best possible price. So is the cheap caravan policy you've found too good to be true? Here are five areas to focus on to help you find out…
The basis of cover: are you comparing like for like?
The price tag on a new or nearly new 4-berth caravan is typically upwards of £15,000. With this comes the issue of depreciation; a caravan has a tendency to leak value from the moment it leaves the showroom. This raises an important question: if my caravan is stolen or deemed beyond repair, how much am I actually going to get from my insurer?
Under market value cover (also known as standard indemnity cover) you are insured for the cost of an equivalent caravan, taking into account its age and condition at the time of the loss. Say for instance you buy a touring caravan for £25,000. Three years down the line, the tourer is stolen. The typical selling price for that make, model and age at the time of the theft might be assessed at £18,000. That's the type of settlement you can expect to receive from your insurer.
This is usually the basis of cheap caravan insurance cover. If you're paid out for a 3-year-old Ford Focus for instance, such is the size of the market that you'd probably have little trouble finding a replacement to spend your payout on. With caravans though, it's much more of a niche market, which means picking up a replacement tourer for the same amount you received from a market value insurance payout can be a much tougher task.
To respond to this, caravan insurance specialists also offer 'reinstatement' cover where you are insured for the cost of a like-for-like replacement up to the value of the sum insured. You can also opt for 'agreed value' cover, giving you the certainty of knowing that you will be paid out a return to invoice amount in the event of a total loss, assuming you have a receipt from a recognised dealer and that receipt is less than 7 years old..
When shopping around, make sure you are not comparing a market value policy to a reinstatement or agreed value package from a caravan insurance specialist.
The excess: can you cope with the shortfall?
You are given an instant quote for your cheap caravan insurance over the internet. You read on to find that the website has defaulted to a suggested level of voluntary excess that seems steep. Should you take the risk and go with it anyway?
It's all down to whether you will be able to cope with the financial hit in the event of a claim. It makes sense to do what you can to reduce your premium – but not if you're going to be left struggling in the event of a caravan repair bill. It's a balancing act, and good caravan insurers will offer you flexibility in this area, enabling you to specify an excess that you're comfortable with.
Does it include the right level of European cover?
The policy may sound like a bargain, but this counts for little if you're left high and dry when you most need help. Be especially wary if you intend to tour the continent. Check that the policy offers the flexibility to add European cover to suit your needs.
Is this insurer cutting corners on customer care?
As well as offering financial protection, the point of an cheap caravan insurance policy is to remove the hassle out of dealing with claims. Ideally, you'll be dealing with a UK-based customer support and claims handling team. They should be easy to contact and swift to respond. Most of all, they should know what they are talking about (i.e. caravan insurance experts).
Do your homework, speak to other caravan owners about their experiences and make sure that a bargain basement price doesn't translate into shoddy customer service.
Is there independent evidence that I'm in safe hands?
If an insurer is promising the earth, how do you know if the promises stack up? Look for trusted and reliable ratings and reviews. Defaqto is an independent researcher of financial products and provides a star rating of insurance policies. When it comes to touring caravan insurance, for instance, Defaqto gauges the various products on the market according to 56 separate features and benefits.
Global feedback engines such as Feefo provide another great way to see what existing customers have to say about the product and services they receive. With a reputation for delivering genuine customer feedback, Feefo has established itself as the choice of consumer generated ratings and reviews for organisations around the globe.
When buying a financial product such as cheap caravan insurance, it's important to base your purchase decisions on the quality of the product rather than just how much it costs. Caravan Insurance specialists Shield Total Insurance have been awarded a 5 Star Defaqto Rating for five consecutive years, and have an impressive Feefo service rating of 96%, so you can be sure you are getting an excellent product.