Many visitors to Thailand choose to rent a villa for their stay, rather than stay in a hotel. There are many reasons that visitors choose to rent a Thailand Retreat.
These include:
1.Size of accommodation
There are many large villas in Thailand. Quite often it can be easier and more cost effective to accommodate your party in a large villa than in several hotel rooms. If you have several children or if there are a group of you travelling together, consider renting a villa.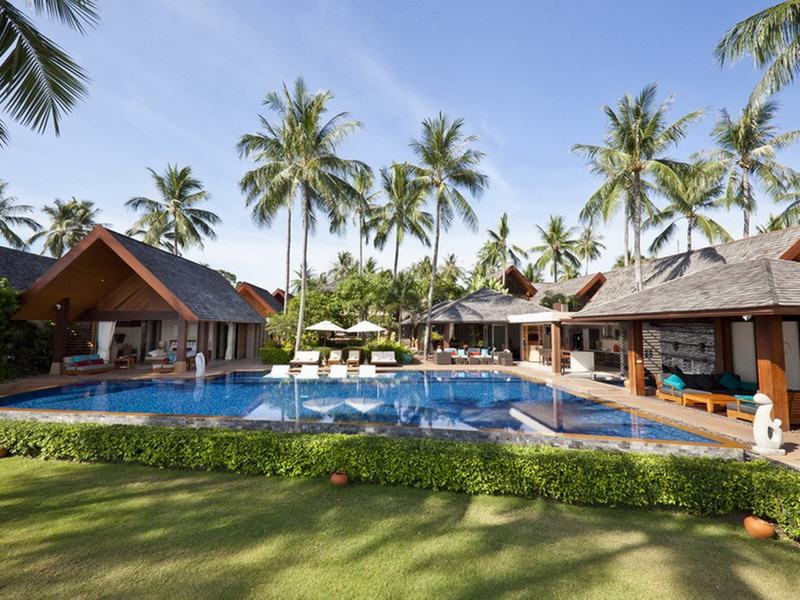 2. Luxury
Over 800,000 British Nationals visit Thailand every year. As the tourism industry has grown, so has the development and investment in new and ever more luxurious villas.  Many of the newly developed villas offer the highest standards in architecture and interior design, with breathtaking views. You will also find that many of those now available come equipped with lavish dining and relaxation areas, infinity pools, private chefs and even such goodies as your own private cinema or use of a yacht for the week.
3.Location
There are now so many villas to choose from across Thailand, you will be able to find a location to suit.  Some are situated on very secluded beaches, some offer complete privacy in the hills and others right in the centre of the action.
Popular areas to rent a villa include Phuket, Koh Samui, Krabi and Koh Phangan.
4. Cost
Depending on how many people are travelling in your party, a villa can be more cost effective than a hotel. You'll usually find that the larger the group, the bigger the saving per person. So you can save on the overall holiday cost or simply get better accommodation for the same budget.
As an example, a 10 night rental of the stunning eight bedroom Thai villa Baan Kilee costs £14026. The villa sleeps up to 20, but if 10 guests stay it is at a cost of  £1402 per person. The villa has its own private cinema in the pool and a separate children's pool. A major plus is its team of staff to ensure everything runs like clockwork, including an on site Thai chef who can whip up an authentic banquet.
In comparison, the stunning 5 star deluxe Banyan Tree in Koh Samui would cost £2105 per person for a deluxe pool villa for a 10 night stay departing on the 1st September 2013.  (Prices correct with Destinology at time of writing and for illustration purposes only.)
5.Special Occasion
Thailand has become one of the world's most popular places for destination weddings and honeymoons. Many villas make the perfect setting for a wedding overseas and are large enough for the whole party to stay together.  Some venues  offer the ability to have the ceremony at the villa.
What to be aware of before booking
Reputable company
If you are not booking with a well known brand, make sure you take precautions to ensure the company is reputable, In the UK it is beneficial to book with a company that is a member of ABTA (The Association of British Travel Agents). It is also a good idea to check reviews of the villa or see if the company has other customers that recommend them or have stayed in the villa you are interested in. Find out what kind of vetting and checking procedures the company has in place and that there have been regular villa inspections.
Save money by renting in low season
Villa rental in Thailand is generally more expensive during the months of December to April. If you book in low season, you will get more for your budget.
Pay by credit card
Paying by credit card gives protection over your payment if by any chance things go wrong. Some private owners may not accept credit cards, so it may not always be possible.
Ask questions
Make sure that you ask several questions about the villa to ensure that it meets your requirements. Make sure you know the location and are sure the villa is in an area that is right for you and your party. Find out the details are re picking up of keys, transport from airport, servicing, cleaning and catering arrangements. Location is of key importance. Villa owners and rental agents should be happy to answer the questions you have.
The excellent beaches in Thailand, combined with local hospitality and great standard of accommodation all combine to make Thailand the perfect holiday choice.