Tenerife is one of the world's most splendid travel destinations people book in their doves each year as you can easily book top Tenerife last chance deals to get to this paradise for a great price. The island is the largest of the Canary Islands and attracts many tourists from around the world each year. Renting a car and driving around the island is one of the best ways to see to all of the magnificent things Tenerife has to offer. The following locations are definitely worth visiting while driving in Tenerife:
Castillo de San Andrés 
This historic castle was built during the early 18th century to protect the island from pirates. The castle was also used as a military fortification during the Battle of Santa Cruz de Tenerife. Even though the castle is now mostly in ruins, the structure still stands as a symbol of national pride and is one Tenerife's most important landmarks.
Teide National Park
Situated in the center of Tenerife, this vast parkland is another terrific place to explore with a rental car. Mount Teide, a massive volcano, is the park's main attraction. The park also features a variety of unique plant and animal species. Scientists have even noted that the geological features of the park are similar to those found on the planet Mars.
Siam Park
This popular water park is a perfect attraction for the whole family. An artificial wave pool gives visitors the chance to surf in a safe environment. The Tower of Power is a massive water slide fit for the most daring visitors. Mai Thai River allows guests to enjoy a relaxing tubing ride along a peaceful waterway.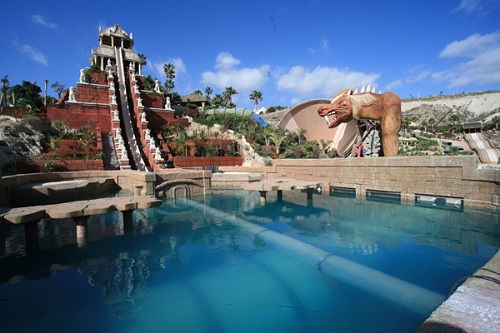 Puerto de la Cruz
A drive to this resort town situated on the northern shores of Tenerife offers visitors the chance to see the island's gorgeous coastline. The area is also known for its exquisite gardens full of colorful flowers. The Old Town section features historic buildings and roadways paved with cobblestone. Loro Parque, the resort's adventure park, contains dolphins, sea lions and other exotic animals.
Auditorio de Tenerife
Located in the capital city of Santa Cruz de Tenerife, this modern structure is known for its unique architecture. The auditorium also hosts many music concerts and cultural events throughout the year. It has even been the site of many important political conventions.
The natural beauty and fascinating sites of Tenerife make this island the perfect place to explore by car. Fortunately, it is very easy to find a suitable car rental while visiting this magical destination.