When you're stepping off a plane after a long flight, the last thing you want to do is spend hours on foot searching out a reliable hotel. You want something close, comfortable and easily booked beforehand. And that's exactly what you'll get with Holiday Inn Heathrow Ariel. From the moment you deboard in London, you know you're en route to reputable service, value and style. So sit back, relax and enjoy the flight knowing that your trip to London won't suffer the stress of finding somewhere to stay.
Things start off right with convenient and frequent shuttle service between the airport and hotel. From there you'll check into one of the hotel's guest rooms. Every accommodation option includes your choice of firm or soft pillows, high speed internet access and LCD TVs systems. That means from a well-earned night's sleep to a quick rest at the hotel, you're set when it comes to comfort and a bit of entertainment. And for those travelers with little ones, there are runway view bedrooms available for you and the kids to watch Heathrow's airplanes take off and land.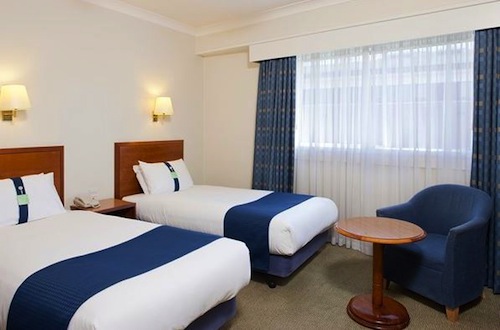 The pleasures of staying at the Heathrow Ariel aren't just confined to the comforts of your room. The friendly staff and various facility offerings are all there to make sure you're well tended to. The hotel is expertly designed to be able to accommodate all types of events, from weddings to business conferences to a printing out mum and dad's boarding passes before heading back home.
First Class Breakfast
While on your trip, you'll never have to worry about starting each day right thanks to the hotel's award-winning breakfast. It is, after all, the most important meal of the day! Guests can choose from delicious hot breakfast items like sausages and eggs to lighter fare such as fresh fruits and yoghurt. Best of all, kids eat free, just one less expense to worry about as a parent trying to organize a trip for the whole family that's affordable. Not only is that a relief for your wallet, but it helps avoid the dreaded mid-morning complaints about hunger while you're touring the city.
Park, Stay and Go
Given how close the Holiday Inn Heathrow Ariel is to the airport, it's no wonder the hotel's Park, Stay and Go service is so robust and convenient. Who wants to worry about where to leave the car and how to afford it when flying is stressful enough? Instead, guests are able to choose from several very competitive packages that include combinations of hotel stay and parking prices. Vacations are short enough, and the hotels Park, Stay and Go offerings keep guests from spending any more time than necessary coordinating transport and affording the stay.
To keep up to date with the hotel's news why not follow its Facebook, Google+ andTwitter profiles.