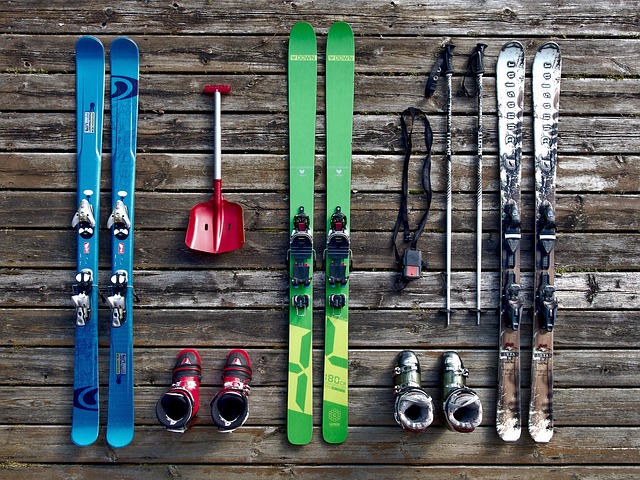 Travelling with snow equipment can be difficult. I know. I've done it a couple of times around half the world. However airlines are now savvier about action seekers traveling with sports equipment. There are ways to go about packing your snow sport equipment to make your life easier so you can enjoy your time skiing in the French Alps.
Every Airline is Different
Each airline has a different policy so do check out their individual websites to make sure you know their quirks. Check before you book as what may seem like a cheap flight, may end up costing you more if they want extra payment for sports equipment. Igoski  may have some great deals worth checking out as well. There are also traps like airlines will take skis as normal baggage but the longest dimension has to be less than 150cm. This which might be fine for boarders and short people but it won't help the taller among us or ski jumpers.
If they do accept skis as normal hold luggage, then consider packing as many of your personal belongings in the bag as well. It serves the purpose of getting your gear to the resort without having to pay for extra hold luggage and it will protect your precious ski edges from mean airport handlers. You may even be able to fit your ski boots in too. I managed.
If you are going to have to pay for sports equipment like on Easyjet with its 20Kg and 32Kg limits, priced accordingly, consider sharing one bag with a friend and putting both sets of skis in one.
Check out the following airlines for current updates but at the time of writing they didn't charge extra for sports equipment so long as it didn't exceed the normal hold luggage allowance – Air France, Swiss Air, British Airways, Lufthansa, Air Berlin, Alitalia, Iberia Turkish Airlines and Qantas. There may be other airlines too and things are always developing in the airline industry.
If you can't carry it, try wearing it
Some airlines insist ski boots be packed in a bag of their own. Check that out before flying.  Hard ski boots are not so easy to clomp in through airports and security but snow boarders can do it with aplomb. If doing it saves you tens of pounds, then why not? Or perhaps you can pack all your clothes in the ski/board bag and carry your boots as hand luggage. You can wear lots of layers on the plane too although you might look like the "Michelin Man". I've put sleeveless quilted tops over my ski jacket before then just carried them as one.
As a side note don't take too many clothes on a ski holiday. You'll spend most of your time in ski gear anyway. Wearing ski clothes into restaurants and bars is de rigueur and dancing in ski boots on tables has been done before. What you need are layers of clothes that you pile on and peel off. Sure, pack one wrinkle free dress up outfit if you must, but make it the first thing to leave behind if you have to leave something. Here is a list of items you might like to pack but remember to K.I.S.S. (Keep it simple stupid)
If it all seems like Too-Much-Hassle
On the other end of the scale when budgeting is not too much of an issue and time is of the essence, you could consider letting others solve the problem for you. (Yes, there are angels in this world). These companies will store your equipment and then ship it to your resort so it is there waiting for you like a loyal puppy. They will also collect it at the end of your snow break and take it back to storage.
Other companies will collect gear from your home and deliver it to the resort and vice versa. All you have to do is leave from work or home depending on your timetable, get to your flight and find a convenient way to your resort.
It's all in the Planning
So when there is a will there is a way to get you and your precious snow sports equipment to the resort of your choice. Know the weight and measurements of your gear. If you are on a tight budget check out the small print, especially on the budget airlines, before booking. Or if you can afford it, make a booking and let others take care of the hassle.