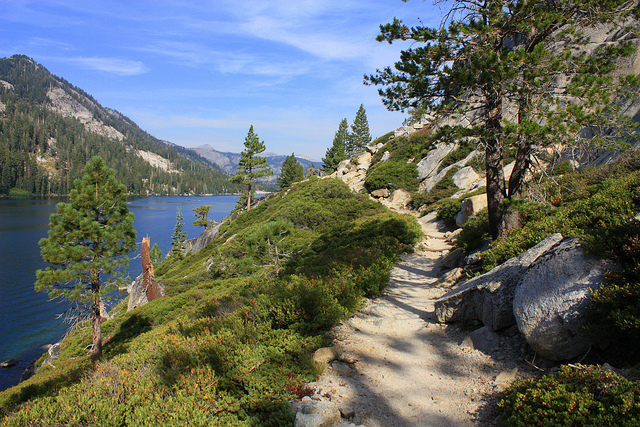 Whether you're an avid hiker, or you're just looking for something different for your next vacation, FlightHub has the perfect adventure option for thrill seekers looking to conquer new heights. FlightHub Review has compiled the ultimate like of must-try extreme hiking trails for our outdoor adventure seekers.
PCT: Pacific Crest Trail
The Pacific Crest Trail is what many consider to be a long-distance hiking trail that is also equipped for equestrian travel. The trail itself measures over 4,200km and stretches over two countries (and almost a third!), with elevations peaking at over 4,000m high. From Mexico to Canada, the trail avoids all manners of civilization and instead converse scenic and pristine mountain views.
The PCT is what many consider to be a Thru Hiking trail, referring to hikers who complete the trail from end-to-end on a single trip, which usually takes about three months. With such a time commitment, most hikers need to pre-plan their routes far in advance including where and when to resupply through checkpoints, post offices or local towns. FlightHub recommends that those wishing to undertake the PCT to conduct extensive planning prior to your trip.
Mount Kilimanjaro, Tanzania
Mount Kilimanjaro is the largest mountain found on the entire African continent and is located in Tanzania, on the east coast of Africa. The mountain is comprised of three volcanos that measure over 19,000 ft above sea level (or 5.7km), and FlightHub believes this to be one of the most gruelling treks any hiker can make in their lifetime.
Though considerably shorter than the PCT, climbing Mount Kilimanjaro is not without its difficult. The six day hike requires you to climb to extreme elevations and endure rapid weather change. It is highly inadvisable to complete the climb to the summit alone, therefore bringing a porter is necessary while on your walk up. Porters are also there to help fuel you up while making your way to the summit, as there are no restaurants nor modern conveniences made available to you while on your journey.
The Maze, Utah
Despite being in one of Utah's most prominent national parks, the complexity and the ruggedness of the Maze receives on a fraction of hikers that frequent the park. As the least accessible district of Canyonlands, the difficulty and remoteness of this trail is one of the many reasons why FlightHub believes this to be one of the most extreme hiking trails in the world. Access to the trails are limited those specified by the park as they lead into treacherous and confusing caves that might get hikers lost.
Reservations and permits must be made far in advance, so FlightHub encourages to plan your trip accordingly with time to spare.