A gateway to the sacred cities of Mecca and Medina, Jeddah is a stunning location, offering an irresistible mix of the old and new.
Fusing traditional coral architecture with contemporary design, Jeddah is the perfect retreat, offering a tranquil escape from everyday stresses and strains.
Whether you want a luxury beach break or the chance to see more of the local area, Jeddah is the ideal base for holidaymakers of all ages.
Here are some ideas about how to spend a week in Jeddah.
Day 1
With King Abdul Aziz International Airport lying just 35km north of the city, there's no need to waste any time exploring the beautiful Kingdom of Saudi Arabia.
Often referred to as the Bride of the Red Sea, the coastal region in Jeddah is known as the Corniche, and features not just the beautiful waters, but a number of other noteworthy places to visit too.
On your first day in Saudi, relax and recuperate after your journey by taking some time to chill out on the stunning beaches in the region. And with spectacular coral reefs and marine life waiting to be discovered, those with a bit more energy can dive beneath the waters to explore the wonderful underwater world of the Red Sea.
Obhur in North Corniche is one of the best spots to find diving clubs and schools from which to hire equipment.
Day 2
After a day on the beautiful beaches of the Corniche, it's time to take a closer look at some of the places to visit nearby.
The Floating Mosque in Jeddah, Saudi Arabia
The Floating Mosque is one of the most breath-taking structures, jutting out from the headland and appearing to 'float' in the sea. With a white marble interior, the mosque is as visually stunning inside as out and is one of the most popular places to visit in the area.
Day 3
Jeddah is a city filled with ancient structures and ruins and taking a trip around historic destinations is a fantastic way to spend a day.
The traditional architecture of the region is impressive and with much of it crumbling away, it's worth seeing it while you still can!
Bab Medina Gate is the only city gate that still remains, situated in Al-Balad, and part of the former wall which encircled the area. Large and imposing, this chunk of the city wall is made from limestone and studded with corals and at night, creates a spectacular vision after it is lit up.
Night-time illuminations are a common feature for monuments in Jeddah and after the heat of the day has died down, a starlit walk around the city will offer some fantastic sights.
Day 4
To come to Jeddah and miss out on shopping is a taboo, as the city is filled with every kind of enterprise imaginable.
The commercial centre of Saudi Arabia, Jeddah offers a trance of shopping districts to suit all tastes. With large malls and souqs, there's an indescribable list of bargains on offer, whether you're looking for a local souvenir or an exclusive boutique buy.
Day 5
Although Jeddah is a cosmopolitan and contemporary city, there is an unmistakable aura surrounding it, a city which has never forgotten its roots.
And as the gateway for both Mecca and Medina, the sacred destinations for pilgrims, it's perhaps not surprising that there are many museums in Jeddah too.
The Municipality Museum is one of the finest, showcasing the history of Jeddah from its beginnings as a humble fishing village, through World War I and onto the vibrant place that it is today.
Other museums of interest include Naseef House and Abdul Raouf Khalil's Museum.
Day 6
Mecca is an achingly beautiful city and as the birthplace of the Prophet Muhammad, it has huge cultural significance.
However, as a sacred city, only Muslims are permitted to enter and any non-Muslims attempting to do so will face harsh penalties.
For Muslims visiting Jeddah, a trip to Mecca even outside the holy time of Dhu'l-Hijjah is highly recommended, lying just an hour away.
There are many road signs for non-Muslims approaching the area, so it's clear where is prohibited.
For Muslims wishing to visit the area, it's a good idea to use an official excursion agency as there are many restrictions which apply.
Day 7
A final relaxing day before jetting back home again, King Fahd's Fountain is the perfect place to visit.
A night time view of King Fahd's Fountain, Jeddah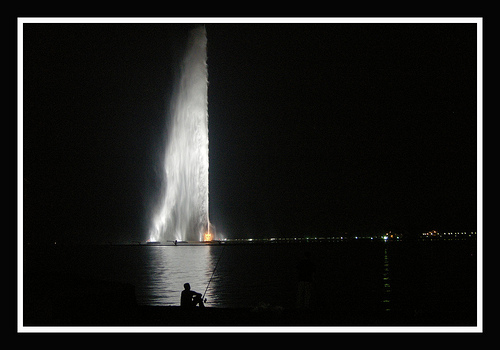 Unveiled in 1985, the fountain was a present from King Fahd to the city, and is the tallest fountain in the world. Spraying up to 312 metres in the air, the fountain is visible all over the city but it's worth travelling to see it to get a real feel for its impressive power.
Using saltwater from the Red Sea rather than draining local freshwater supplies, the water in the fountain can reach speeds of up to 375kph in an incredible display of natural ferocity.
Jeddah is surprisingly accessible, with the King Abdul Aziz International Airport just a short trip to the north. Recently refurbished and renovated, the airport is a comfortable and relaxing place to fly to with a range of flights to Jeddah available throughout the Middle East.
With a terminal specifically for use by the Saudi Royal Family, you're in good company!
The above itinerary just provides a few ideas of what to do in the beautiful and mystical city of Jeddah; once visited, never forgotten.
Image Credits: Ayu Mayshita and Basheer Olakara