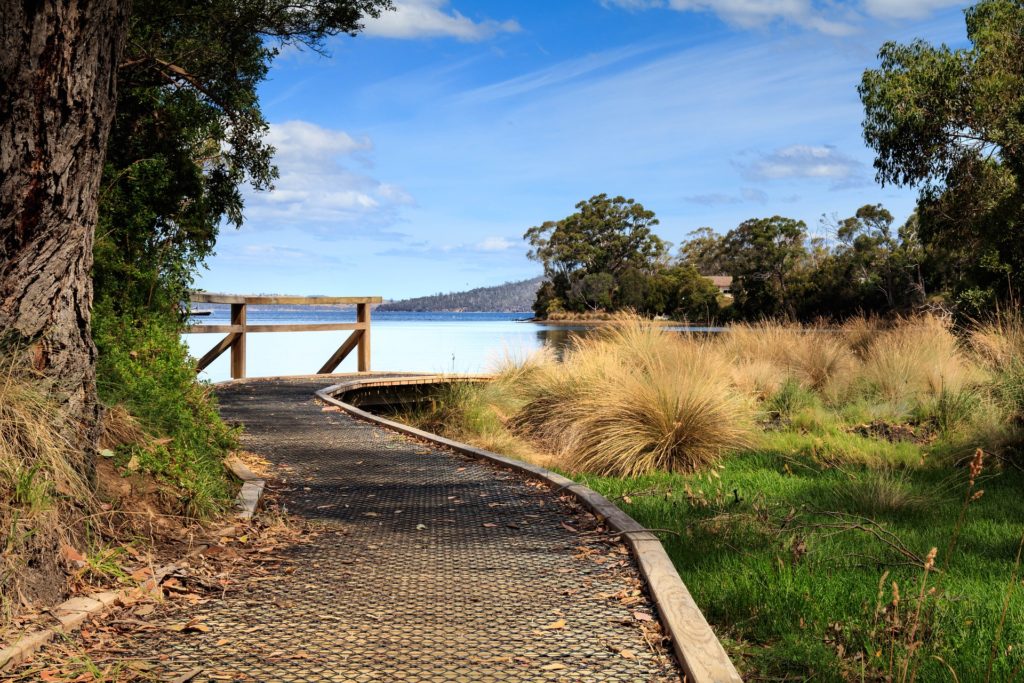 There's nothing quite like retreating to a sun-drenched island where you can truly relax on white sandy beaches lapped by crystal clear waves. Here we take a look at the 7 of some of the largest islands in the world where you can find an escape from the daily grind.
1. Tasmania
The island of Tasmania is located in isolation off the south coast of Australia. Tasmania is known for its vast areas of wilderness which are mostly protected as part of nature parks and reserves. The island is a beautiful retreat where you can really immerse yourself in nature. If you're looking for what to do in Tasmania, you'll find lots of activities in Hobart which is bursting with galleries, boutiques and a fascinating Museum of Old and New Art.
Tasmania is home to many surprises such as the lavender fields in the north of the island at an estate that is open to visitors. With scenery that is more reminiscent of Provence in France, the fields are usually in full bloom in February. You'll find more floral attractions at Tulip Farm on the northwest coast of Tasmania which displays a huge range of vibrant blooms in the spring season. With an abundance of national parks and protected areas, the island offers many attractions for tourists of all ages.
2. Greenland
Greenland is the largest island in the world, covering 822,700 square miles. Despite this huge expanse of land, there are just 56,483 people living there. Although Greenland is largely viewed as being an inhospitable place in terms of climate and natural landscape, it has now become a destination for adventure tourism.
Despite being known for its cold climate, Greenland is home to numerous hot springs where the water temperature reaches 100 degrees throughout the year. Another spectacle that makes Greenland an appealing destination is the view of the Aurora Borealis or Northern Lights which dance in the night sky to provide an awe-inspiring sight.
3. New Guinea
New Guinea is a divers' dream destination with plenty of exploration to be done on both coastal borders of the island, which are packed with colorful coral reefs and tropical fish. The landscape is mountainous with the highest peak being Oceania which is one of 7 located on the Indonesian border of New Guinea. One area of interest for divers in particular is a World War II plane and other shipwrecks which provide a fascinating day of discovery.
New Guinea is a fantastic destination for events, shows and exhibitions, with a packed diary throughout the year. There are also numerous attractions worth a visit on the island including the Varirata and Port Moresby Nature Parks, Asaro village, which is home to warriors who cover themselves in grey mud, known as the mudmen. There a wide range of boutique restaurants and bistros offering fine dining on the island and plenty of opportunities to take in the breathtaking beaches.
4. Borneo
Borneo is the third largest island in the world, with 73% t of its territory falling under Indonesian rule. However, the sovereign state of Brunei has 1% occupation of Borneo and Malaysia the remaining 26%. This brings an interesting blend of three different countries, with the majority of the population being of Indonesian descent.
Borneo makes a fantastic destination for exploration and adventure holidays and for those interested in the rainforests and their role in the environment. One of the oldest rainforests in the world is located on the island, which is home to a diverse range of exotic and rare wildlife. People who enjoy being completely immersed in a breathtaking landscape that's rich with biodiversity will find Borneo exceeds their expectations.
5. Madagascar
Madagascar is a large African island with a population of just over 22 million. Covering a surface area of almost 230,000 square miles, Madagascar is the largest island in the Indian Ocean and the 4th largest in the world. There are huge swathes of uninhabited wilderness on this island although there is also an abundance of stunning scenery and rare wildlife. According to research, around 5% of all known species of animals and plants can be found on Madagascar.
6. Baffin Island
Canada is well-known for having the longest coastline in the world which is the location for an unidentified number of islands. Estimates say there more than 30,000 islands along just one shore of the Canadian coastline called Georgian Bay which is said to be the biggest freshwater archipelago on the planet. Mount Asgard and Mount Thor offer adventurers stunning views, with the latter peak featuring a vertical drop which at just over 4,000 feet is the world's highest.
Perhaps unsurprisingly, there are plenty of nature parks on Baffin Island and there are vast areas protecting the breeding grounds of millions of migratory seabirds. For this reason, Baffin Island is an incredibly important environment for all types of species of birds, animals and plants. A visit to Tupirvik Territorial Park allows you the chance to hunt for fossils in the ancient seabed and there are numerous other activities making Baffin Island well worth a visit.
7. Sumatra
Sumatra has a population of around 50 million and covers almost 172,000 square miles. The island is located off the coast of Indonesia with an interesting location that straddles the equator making it rich in biodiversity. Sumatra is known for regular eruptions, earthquakes and tsunamis but despite this, the sheer variety of wildlife provides a fascinating reason for a visit to the island. Sumatra's coastline offers visitors picturesque scenery with challenging surf for the more energetic along with a wide range of diving and watersports.
One of the most popular tourist hotspots on Sumatra is Lake Toba which fills a vast crater that was formed as a result of a massive eruption of a nearby volcano that is now dormant. Among the stunning scenery are the tombs of Batak kings, a group of people indigenous to Sumatra. A visit to Lake Toba provides great insight into the culture of the Batak people and their traditional homes provide fascinating sights.