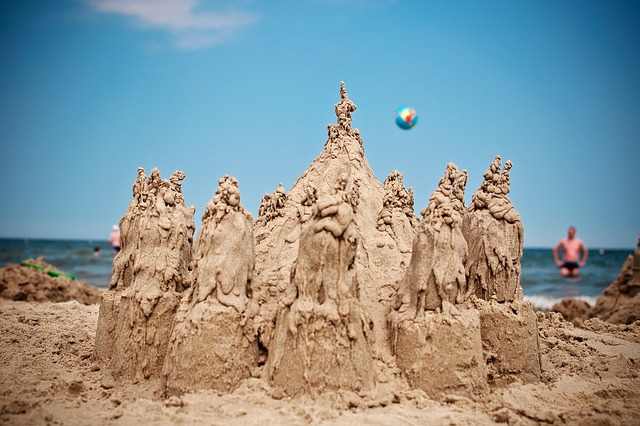 Sunshine, a UK-based online travel agency, has looked at the top places to go in the UK for beach sunshine. The five best places were revealed to be South Downs, Newquay, Blackpool, Lowestoft, and the Orkney Islands. However, with the bank holiday weekend likely to be a washout, they are encouraging people to go to Vue Cinema instead, where they can have a California experience to celebrate the launch of the new Baywatch movie.
May has been a month of heat and wall to wall sunshine, and people in the south of the country in particular have had some fantastic temperatures. In fact, meteorologists have stated that Eastbourne was the country's most sunny seaside town this month.
Sunshine.co.uk, a UK-based online travel agency, has gathered data from the Met Office in order to determine what the temperatures have been like across the country, using this to reveal the five most popular beaches for people to consider for the May bank holiday. They are:
South Downs, where beach goers can enjoy seven and a half hours per day of sunshine.
Newquay, where the sun shines for seven hours every day.
Blackpool, which, like Newquay, gets seven hours of sunshine per day.
Lowestoft, where six and a half hours of daily sunshine can be expected.
The Orkney Islands, which offers people the opportunity to go on a real holiday, while at the same time enjoying 6.1 hours of daily sunshine.
Unfortunately, however, it looks like the bank holiday might turn out to be a bit of a washout, which was unexpected. That said, it looks like seaside towns are responding to this already, focusing strongly on local cinemas, which are set to strike it big this weekend.
A representative from Sunshine says: "This bank holiday weekend is also the launch of the new Baywatch movie. If people go anywhere that has a Vue Cinema on Bank Holiday Monday, they will be able to enjoy 4K definition shots from Venice Beach in California, with 5.1 surround sound."
Vue Cinema is known for being very innovative when it comes to their screenings. They are committed to ensuring every customer has an experience never to forget. For them, going to the cinema should be as relaxing as going on holiday, having an opportunity to escape from the real world for a few hours.
During Bank Holiday Monday, therefore, people will be able to virtually go to California. No matter where in the UK they are, and no matter what the weather is, they can feel as if they are actually thousands of miles across the world.
Sunshine has worked together with a behavioral psychologist to determine whether this will still give people the bank holiday feeling. This found that, while it is clear that a relaxing beach holiday is incredibly important to let people recharge their batteries and unwind, psychological efforts are equally important in terms of overall well-being. The sunshine representative says: "The so-called 'blue space' is the link between mental health and water. Basically, it gives us a change to destress, because our brain automatically starts to release serotonin, which is the feel good hormone. What research has shown is that this doesn't have to be the physical beach. Rather, it is the sound and the light that we need, and you can experience that at Vue Cinema this weekend."
Essentially, for those who cannot get to the beach this weekend, or for those who find that it is a bit of a washout, cinemas are available to still give them that holiday feeling.