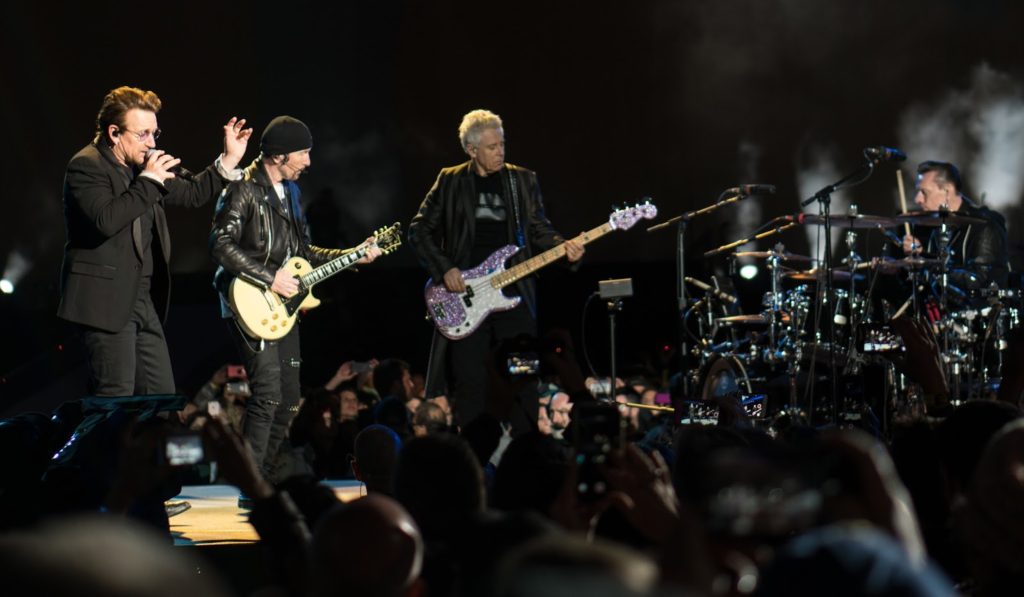 For such a small country with an equally small population, Ireland has contributed greatly to the music scene throughout the ages and particularly Pop music industry over the past 50 years. The country is renowned for its Pop music icons, venues and places where musicians came to make music or just hang out.
Many people come to Ireland to explore the music culture and to find out where all of the music happens. Because the country is small and most of the action situated in Dublin, it is easy to rent a car and drive to the important music places. If this is your plan however, make sure you get good insurance when you drive. Companies like Chill Insurance at https://www.chill.ie/  can cover you against any accidents you get into in your car while you are in Ireland.
Irish Music Icons
Ireland has produced a number of international superstars who have defined popular music over the decades. Perhaps the most famous of these is U2, the super band that for more than three decades has been a top seller and even today is one of the world's most popular bands. Boomtown Rats lead singer and music philanthropist Bob Geldolf was born and raised in the coastal suburb of Dún Laoghaire in County Dublin. And many other music stars including Sinead O'Conner, Van Morrison, Ronan Keating and Enya, all come from this musically gifted country. As you drive around the country there are monuments and reminders of the accomplishments of these music stars and others to be seen everywhere.
Important Music Landmarks
Windmill Lane Recording Studios – Windmill Lane Recording Studios opened in 1978 and has become Ireland's most famous recording studio. The list of artists recording here reads like a music hall of fame and seminal recordings by US including 'War', 'Boy', 'The Joshua Tree' and 'All That You Can't Leave Behind' were all recorded at Windmill Lane. You can find the recording studio at 20 Ringsend Road in Dublin city centre by following the R140 on the south side of the River Liffey.
Statue of Molly Malone – 'Molly Malone' is a popular Irish song that tells a fictional tale of a fishmonger woman who traded on the streets of Dublin. Over the years, it has become the unofficial anthem of the capital city and there is now a statue of Molly Malone, created by sculptor Jeanne Rynhart, situated in Dublin's city centre on Grafton Street. The statue has been voted as Ireland's most popular music landmark.
Statue of Phil Lynott – In 2005, a statue of Thin Lizzy lead singer and bassist Phil Lynott was erected on Harry Street, off Grafton Street, in Dublin to commemorate the success of this Irish son and his classic rock band.
Irish Rock N Roll Museum Experience – Come to the Temple Bar on Curved Street and take a tour of the museum to hear the untold stories of Ireland's best musical talent, from Van Morrison, to Sinead O'Conner.
Ireland Music Venues
3ARENA – Located at North Wall Quay in the Dublin Docklands and seating 13,000 screaming music fans, 3ARENA is the largest live music venue in Ireland. Irish super band U2 was the first band to perform at the arena, and since, all of the top groups who come to Ireland do their gigs here. The list of superstars have included Beyoncé, Ed Sheeran, and Bob Dylan.
Olympia Theatre – When David Bowie and Radiohead came to Dublin they performed at the intimate Olympia Theatre. This venue has been open since 1870 welcoming performing artists from all over the world.
Cork Opera House – If Jazz is your choice, you have to come to the Cork. It is home to the Cork Jazz Festival that invites Jazz luminaries to Dublin each year. For more than 160 years the Cork has been a musical gathering place in Emmett Place. It also hosts live theater and comedy shows.
The Academy – The hottest night club in Dublin is located at 57 Abbey Street Middle in Dublin city centre, The Academy has four floors of dancing and has played home to top music artists including The Killers, Lily Allen, and Calvin Harris. The Academy is open five nights every week for dancing.
When traveling to Ireland be sure to leave yourself enough time to enjoy the music and the music venues. There are few places like Dublin that can match the music excitement you can have here.