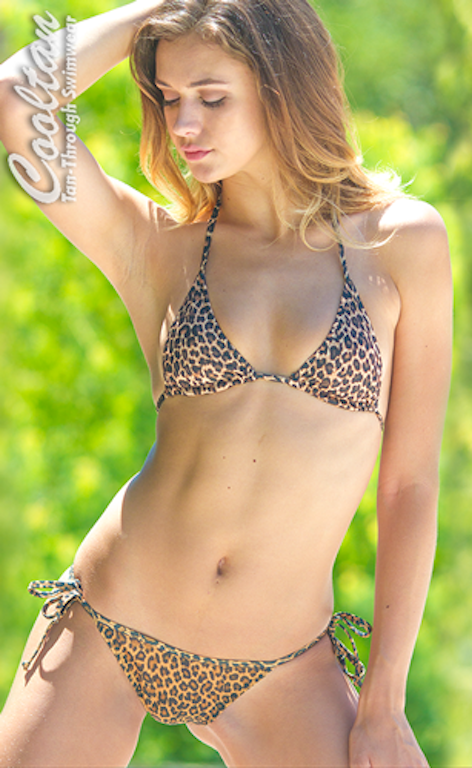 Finding the perfect travel-friendly swimsuit can seem like an impossible task- they're either too thin, not cute, or leave awkward tan lines when you're trying to tan. That's why we were so excited when we found the company CoolTanⓇ because we think they've created the best travel-friendly swimwear that lets you get a perfect tan right through your swimsuit. With CoolTan's TanThrough swimwear you'll no longer have to deal with sticky and streaky tanning lotions or more importantly annoying tan lines thanks to their ability to tan right through the fabric. Getting a tan can be as easy as walking along the beach, laying by the pool, or hanging out on a boat.
What makes CoolTan's swimwear so amazing is their specially formulated Microsol V fabric which is knitted to create millions of tiny pores to allow in approximately half of the sun's rays to get you a great, even tan right through the fabric. The porous fabric also wicks moisture and lets air pass right through, keeping you cool and comfortable while also drying up to 3x faster than normal fabric. This makes it the perfect choice to take traveling because you won't have to sit around waiting for your soaking wet swimsuit to dry before packing it back in your bag, no more having to hang it in the hotel shower while it stays sopping wet. Each swimsuit is incredibly lightweight and durably stitched so you won't have to worry about it taking up too much space or falling apart while you're traveling. And if your suit gets dirty just throw it in the washing machine- this will get out all the salt and sand and help preserve the life of your suit while also keeping it nice and clean.
CoolTan has a variety of styles, sizes, and patterns to choose from for both men and women. Women's suit styles include 1-pieces and monokinis while also having the option for more revealing string and halter top bikinis. For men you can choose between racers, fitted shorts, swim trunks and board shorts so you are guaranteed to find the perfect fit and comfort level for your taste. Each TanThrough swimsuit is proudly made and shipped out of California, so you can feel good supporting a product Made in America. Any issues with your suit style or fit? Contact their responsive and helpful customer service team who will ensure you find the perfect suit for you!
Check out CoolTan's TanThrough swimwear to experience the perfect travel-friendly swimwear for yourself- get a great tan without tan lines as you're going about your travels!