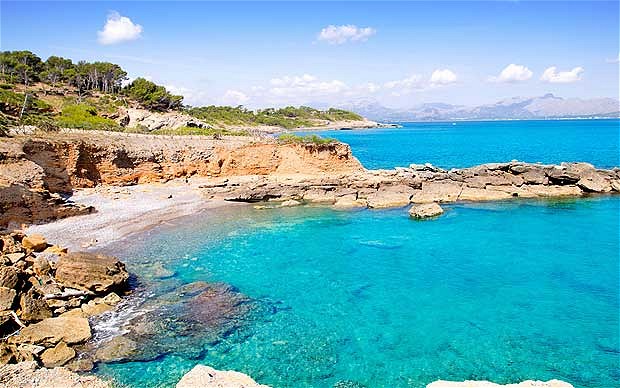 Resorts such as Maguluf have given the Balearic island of Majorca a reputation as a party destination, but look beyond the beaches and bars you'll discover action of an altogether different nature. Whether your preference is for pumping your blood with intense cardio or indulging in a gentler sport where you have time to absorb the local surroundings and wildlife at your own pace, Majorca offers hobby holidays that will give you a new perspective on the island. Pack your binoculars, bicycle and golf bag and jet off for a spot of cycling, twitching or swinging on the fairways…
Improve your swing
With great weather all year round and low cost flights from Britain, Majorca has become a popular golfing holiday destination. At last count (by simplyMallorcagolf) there were 20 18-hole courses crammed onto this beautiful island and some real diversity among the types of courses on offer, as well as interesting stories behind many of the courses too. One of the most popular golf courses, Alcanada, was the brainchild of none other than Hans-Peter Porsche, grandson of the automotive pioneer. Designed by Robert Trent Jones Junior – himself the son of the legendary golf course designer Robert Trent Jones, it was completed in 2003.
Like many of Mallorcan courses, you can book directly with Alcanada online, though many amateur golfers choose to organise trips through dedicated golf holiday specialists. If you prefer to observe from the sides rather than wield the clubs, you'll usually find tournament dates available online like these for Alacanada, which is located in Puerta de Alcudia. You can explore a large cluster of golf courses close to the capital Palma, which makes it exceedingly tempting to combine business or shopping trips with some time spent teeing off!
Limber up in Lycra
If the first thing you like to pack into your suitcase is your Lycra cycling gear, you're probably aware that Majorca is a top cycling venue. In the winter months you'll find the likes of Bradley Wiggins and Chris Froome exploring the mountain trails here, packing in some extra training with a pleasant 15 degree climate. With high profile visitors such as these it's easy to see why the island has become a top cycling destination in recent years but there's more than celebrity guests to thank for Majorca's cycle tourism.
Majorca's road network is said to be 1,250kms long with 20 per cent of the roads based in the mountains, though you'll find plenty of routes for beginners as well as more ambitious tracks for the more accomplished. Those looking for a serious challenge should check out the Mallorca 312 – the longest cycle event held in Spain
If you want to include cycling in your trip to Majorca but don't necessarily want to make it your focus, you'll find Majorca villas for groups of all sizes at Finishingtouch.co.uk. If your plan is to spend most of your time peddling, you can book tours online with specialist cycling providers, who will happily provide you with a bike when you land. Another option it to book a cycling trip with Jet2, they give the lead cyclist free carriage for their bike, so if you're travelling with friends you may want to generously offer to make the reservations!
Bring your binoculars
The Eastern side of Majorca is a great area for birdwatching. A stopover point for many migrating birds you can spot species such as the Black Vulture, Balearic Warbler and Audouin's Gull, which are considered rare in most other parts of Europe. If you'd like to include some ornithology or bird photography as part of your holiday, you'll find a useful map of some of the top bird sites on Birdinginspain.com. You can go it alone or choose to book onto a Birdinginspain trip to get an insider's view.
As the best bird watching is generally done in the morning it's perhaps not something you'll want to do every day of your trip, particularly if you've indulged in a glass or two of local wine the night before. However, you'll find plenty more to do in the area, including paths for walking and some breathtaking views to paint and draw. So, don't forget to pack your paintbrushes is you're artistically inclined!
Whether you've been to Majorca in the past or are now feeling inspired to plan your first visit, hopefully this post will have given you some ideas about activities you might like to get involved with during your trip. Of course, a little sunbathing, swimming and tapas eating should hopefully make it on to your agenda too.