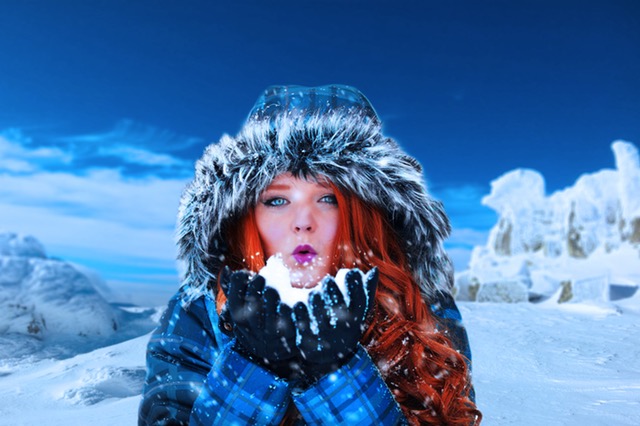 https://www.pexels.com/photo/adult-beautiful-blowing-christmas-259522/
If the thought of braving freezing temperatures on a ski field is not really your idea of fun perhaps you have never considered skiing in Les Arcs in the French Alps. Les Arcs is the ski area built with skiers in mind from the very beginning. It is a place where you can have fun in the sun.
There are four purpose-built modern ski resort areas, predominantly of self catering apartments and all are pedestrian only areas. All made for skier convenience and enjoyable alpine activity. The resorts are called Arc 1600, Arc 1800, Arc 1950 and Arc 2000. The village of Bourg Saint Moritz is the traditional village nestled in the valley below.
One of the great advantages having the resorts designed for skiers is the fact you can easily access areas by foot. If staying warm is the key to you enjoying yourself make sure you choose apartments or chalets where you can ski in, ski out to limit any time standing around in cold temperatures. You can be assured of getting on the slopes quickly and be able to keep moving to stay warm.  Arc 1950, especially has a clever layout where almost every door is easily accessed on skis and all the shops, ski hires and restaurants are only a few minutes by foot. For information about a warm ski vacation at any of the Les Arcs resorts check out what AlpineElements have on offer now.
On one side of the valley are Arcs 1600 and 1800, loosely designated such by the altitudes they were constructed. These are essentially convenient apartment blocks with easy access to ski slopes. Arc 1600 was the first to be built while Arc 1800 is the largest and still expanding. On the far side are the later designed Arcs 2000 and 1950, which is the latest to be built yet probably has the most the most traditional village style with individual chalets as opposed to apartments.
If the après ski scene is important then Arc 1800 probably has the best nightlife with regular entertainment on offer and a good selection of restaurants.
Les Arcs Ski Area
The whole ski area is essentially two long parallel ridges, with the higher one reaching up to the Aiguille Rouge at 3226m. The ski area is formed in the hanging valley between these ridges and some of the best skiing is found on the north-west facing slopes. Most of the slopes run from 2000metres down to 1200 metres and are serviced by 131 lifts with over 200 kilometres of well groomed piste. However the top lift will haul you up to 3250 altitude close to the peak of Aiguille Rouge.
If you are an intermediate skier you will find plenty of suitable slopes at Les Arcs with 135 designated Blue runs and 77 Red. Many of the most confidence boosting slopes are above Arc 1600 and Arc 1800 with broad, well groomed pistes that are sheltered by trees to keep any biting winds at bay. You can still have fun on the snow at Les Arcs when other resorts are blown out by storms. An important factor to stay warm is avoiding places that have high wind chill factors.
For beginners there are 12 Green which should give enough variety to keep up interest plus there are excellent ski schools offering their services too.
For the expert there are 37 black plus other off piste challenges to keep you happy. One of the best long pistes in the Alps is from the Aiguille Rouge at 3226m to the village of Villaroger at 1200m which should be more than enough to set your thighs on fire and warm all your body.
Other Activities at Les Arcs
Les Arcs also have a lot of extra activities on offer so if the slopes get too cold you can always go for a swim in indoor heated pools, try snow shoeing or tobogganing, or even dog sledding. At the end of a physical day you could also check out a sauna and relax with a massage.
You can even try to overcome your aversion to the cold by making a reservation to have dinner and stay the night in the Les Arcs Igloo Village at 2000m. The Igloo offers dinner, bed, and breakfast and it is a lot warmer inside than you might think.
A few tips to stay Warm
Another key to staying warm is to ensure your body is getting enough good fuel for its fire. Make sure you take regular breaks to drink hot beverages or eat nourishing food. Alpine environments usually stimulate appetite so make the most of the great restaurants and the delicious local French food on offer.
Consider the time of day you ski. Early in the morning offers the freshly groomed slopes but the air is decidedly chillier so perhaps start mid morning and retire before the sun drops too low and the air chills again.
Consider the time of year you wish to go skiing. Spring skiing offers very warm alpine temperatures and sun screen is necessary. Les Arcs season runs well into the spring season, finishing at the end of April.
Bad Weather or Bad Clothing?
There is a saying that, "There is no such thing as bad weather, there is only bad clothing." So maybe hating the cold is not really your problem. Perhaps you often feel cold because you do not have the best clothes for the environment. If you are warm and dry then temperature will not make you feel miserable at all.
The best thing to do before you head off into any alpine area in the winter is to get yourself well kitted out. This means "thinking like an onion". That is, you are best to have layers of warm clothing, each doing a slightly different job to keep you warm and toasty. When choosing suitable clothing learn about special qualities of fabrics and terms that describe them. Make sure they fit well and the upper body garments are long enough to cover your lower back when you move and lean forward.
Wicking properties for fabrics, means that liquid is physically moved away from an area meaning that any sweat is removed from your skin to keep you feeling dry.
Breathability when it comes to fabric, means that any moisture in the form of water vapour can evaporate off. This even applies to some waterproof fabrics however most ski clothing does not have to deal with torrential downpours so it is enough to be water resistant.
Ensure you are well layered with,
Inner Layer. You will start with a thermal layer that wicks any moisture away from your skin and breathes. Fabrics with polyester, merino wool and silk mixes are great for this layer.
Mid Layer. This layer is to add insulation and keep your body heat where it is needed close to you. These clothes will usually "breath"  too and are thin enough to allow you to move easily but also keep you warm. Synthetic fleece, merino wool are both suitable for this layer.
Outer shell. This layer is usually a thin waterproof jacket that is also windproof. Sometimes this outer layer also has insulation, like feather down or synthetic filling.
And you need good coverage for your extremities – head, hands and feet. For socks, in my experience you cannot get better than 100% merino wool as the material wicks, breaths, is very warm and stays that way even if damp. For your hands, mittens are warmer than gloves because your body heat circulates between the fingers. If you want gloves for dexterity then, try thin silk knit liners as they work like the inner thermal layer.
Last but not least for your head, wear a thin, well cut balaclava that will fit under your ski helmet. It should cover your ears, down the back of your neck and have a longer front to protect your neck and upper chest. You may want to add a thin scarf but with high necked fleeces and jackets and a balaclava it is probably more for show, but why not? You can wrap the scarf around your head for après ski to cover up any "helmet head hair".
Maybe once you have the best gear for the cold you will overcome your aversion to cold weather and decide to spend more time skiing. You might even decide to "go the whole hog" and learn to become a ski instructor!
Check out Les Arcs now for warm Spring Skiing.
Don't let the fear of the cold put you off having great time in the French Alps this season. The slopes are open until the end of April so there will be plenty of warm spring skiing to be done. It might even be so warm you will be skiing in your T-shirt!